AURA Strap
Boost your Apple Watch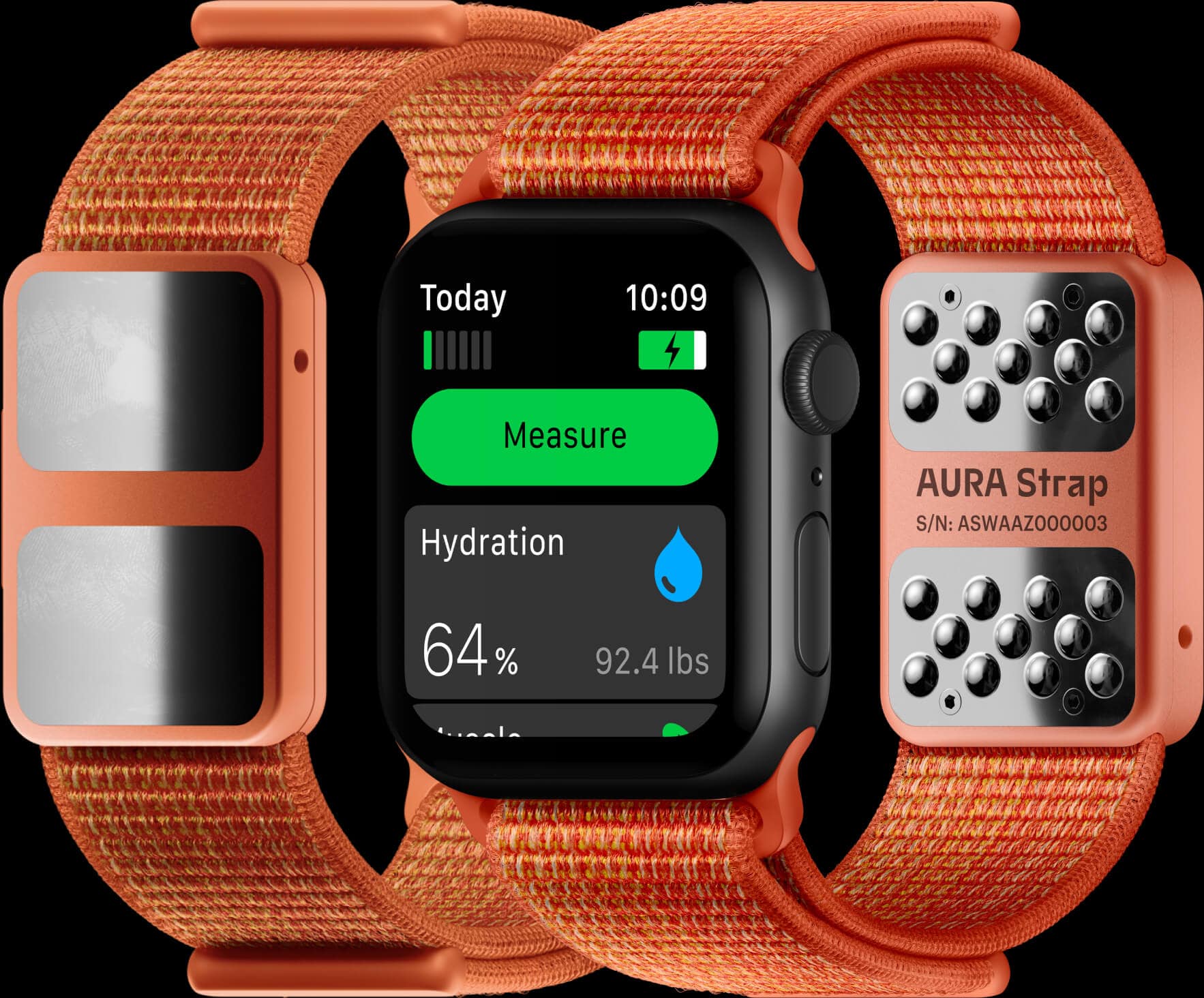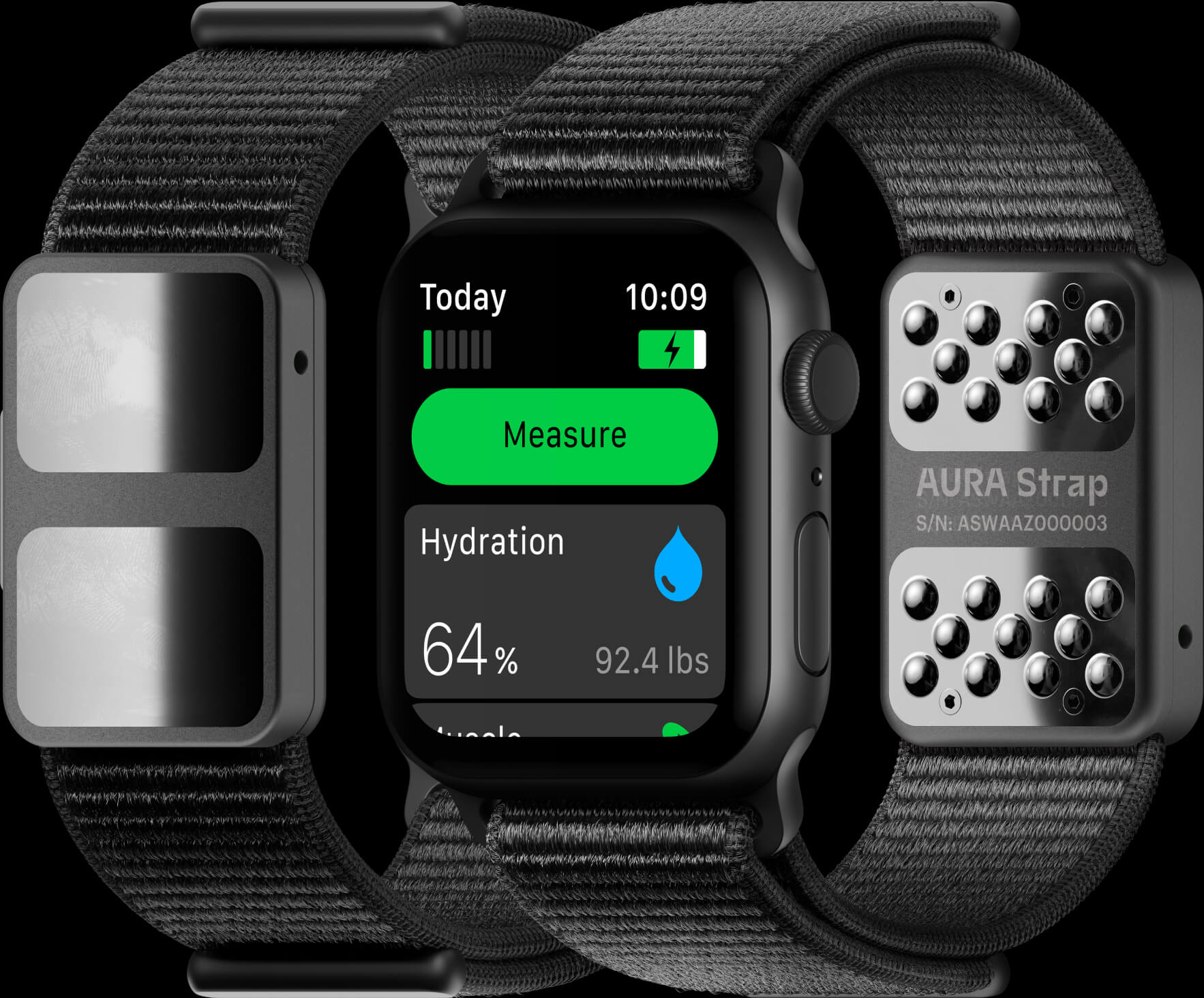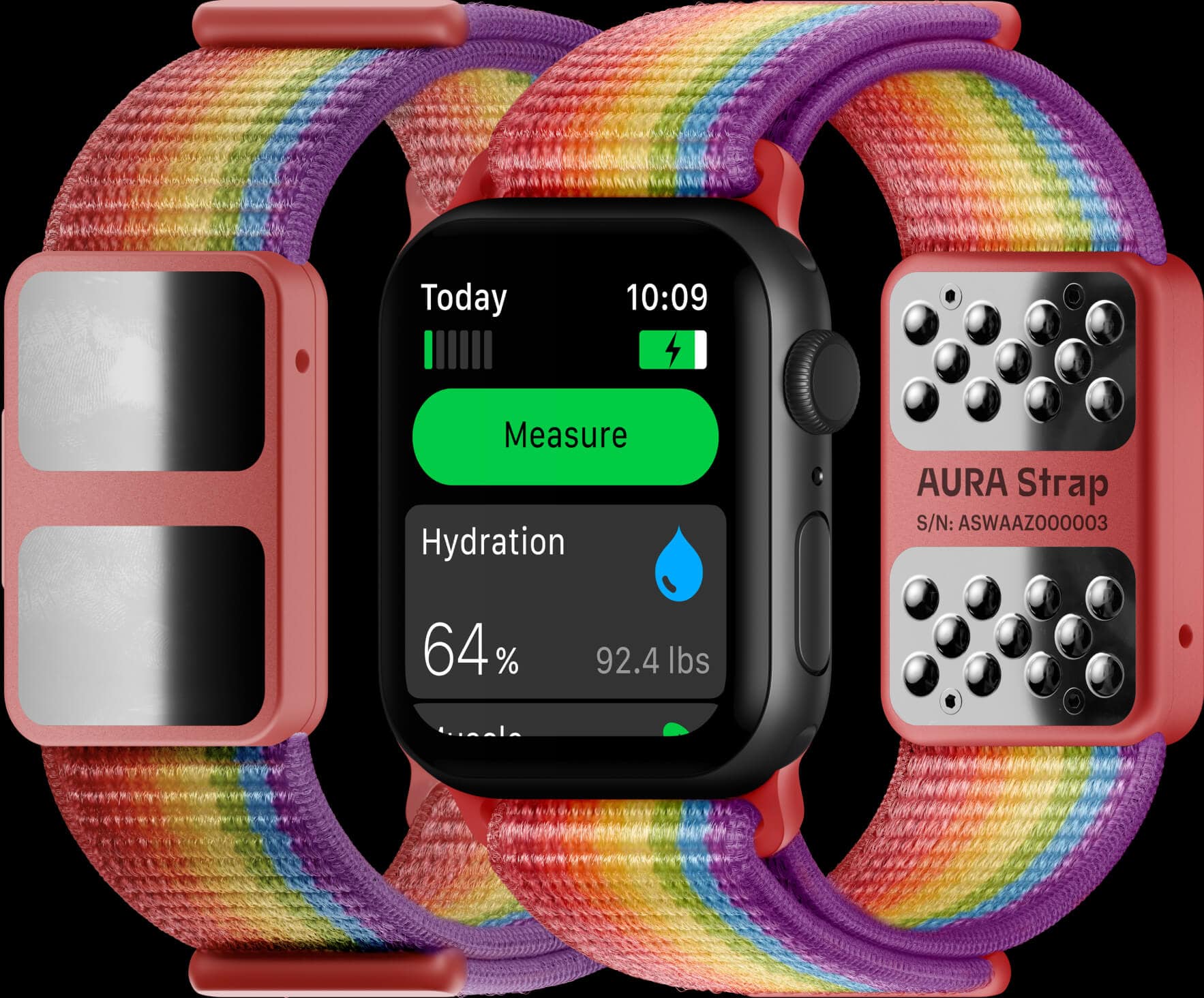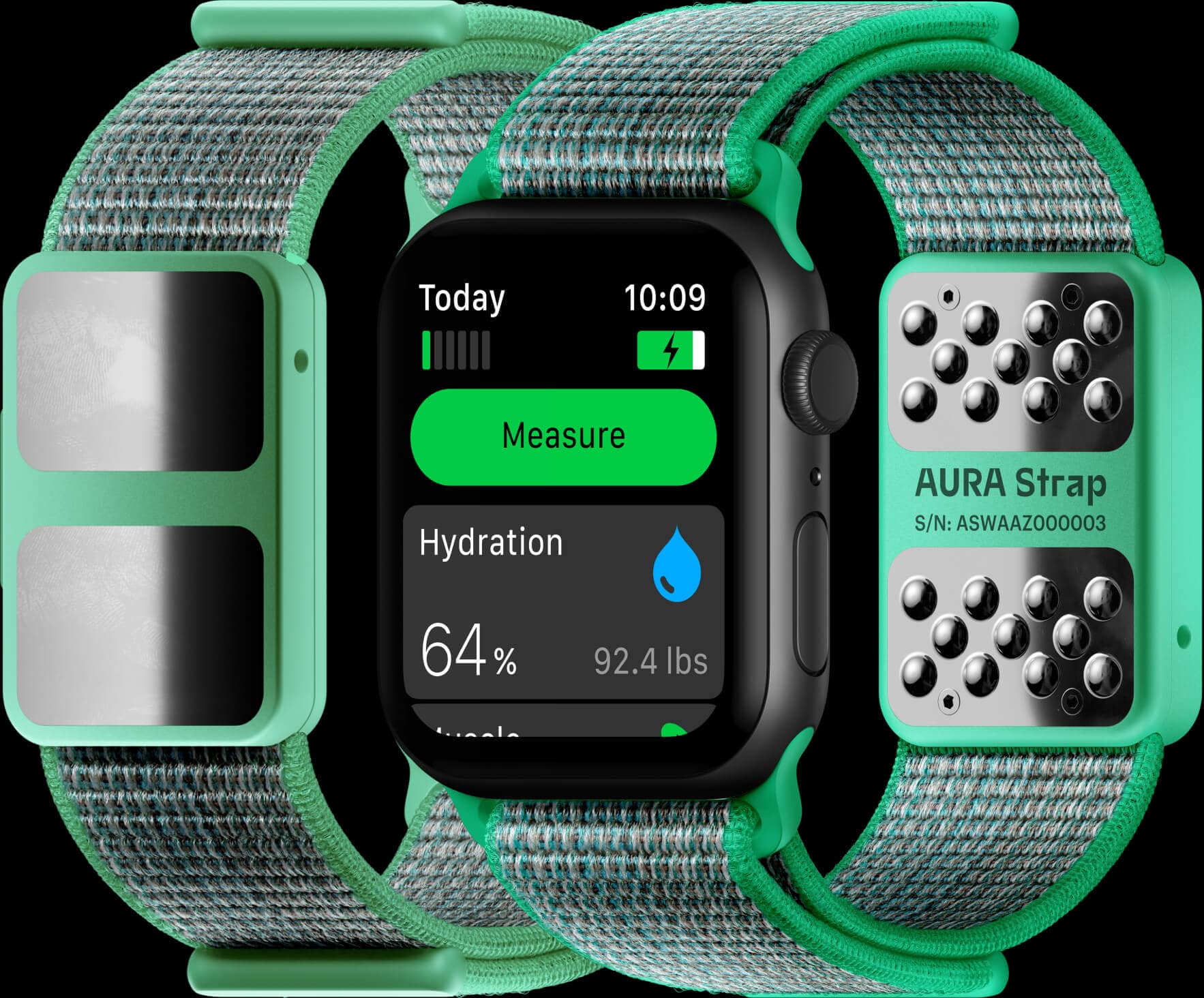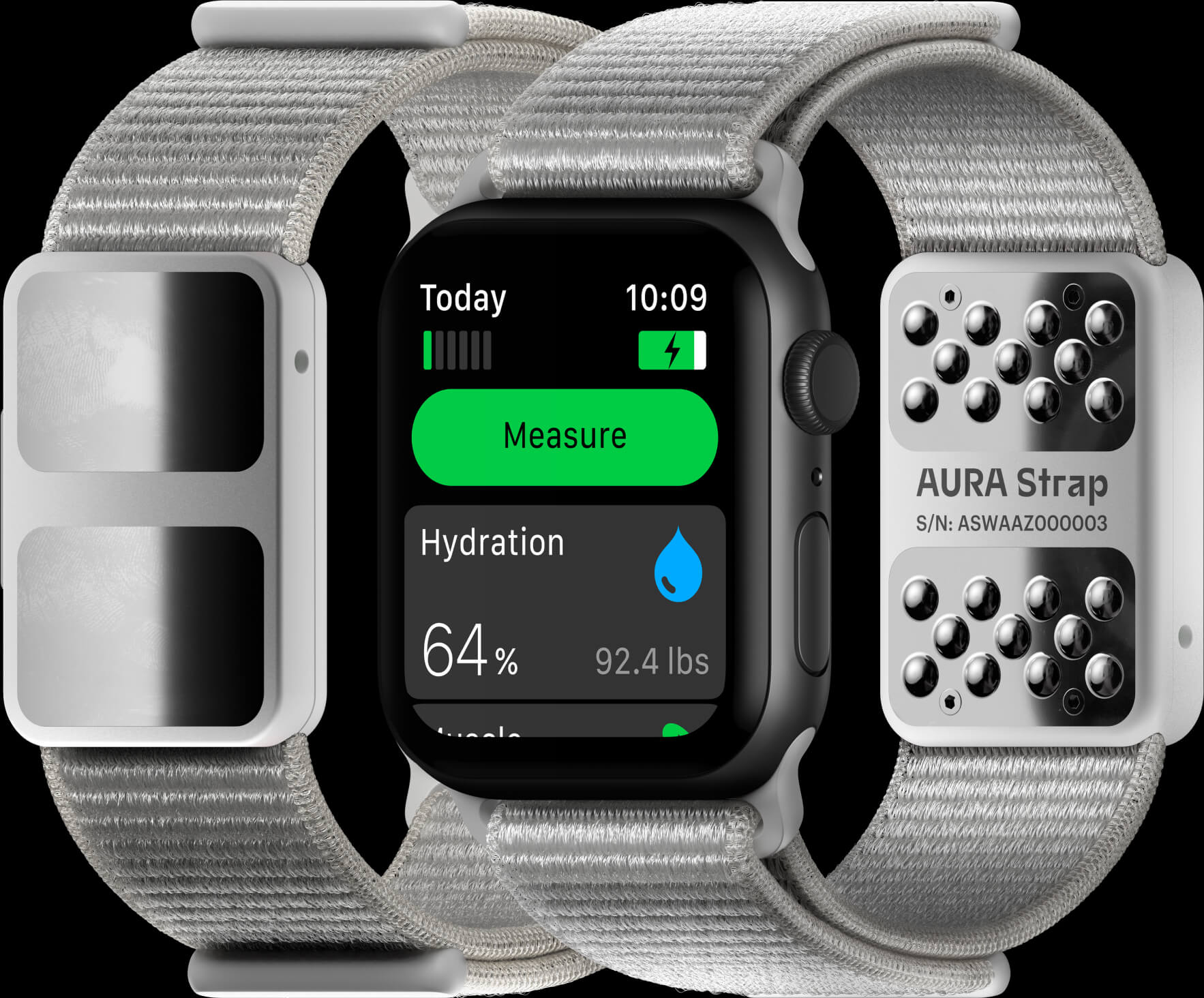 The AURA Strap is the only way to measure your
hydration
levels and
body
composition right on your
Apple
Watch. Transform your Watch into the ultimate health tracker and achieve your diet and fitness goals faster.
Improve your workout performance
Bioelectrical impedance analysis is the cutting-edge science behind the AURA Strap. BIA is the only way to truly see how your body changes over the course of a day. Our body composition analysis includes fat, muscle mass, minerals, and hydration; providing personalized insights that improve the results of your workouts, diet and your lifestyle as a whole.
Take your
workouts
and sports activities to the next level, try the AURA Strap. With advanced information about your
body,
you'll easily see if you're still on the right track. The AURA Strap helps show your body's true dynamic, so you can better understand your performance and improve outcomes on the field.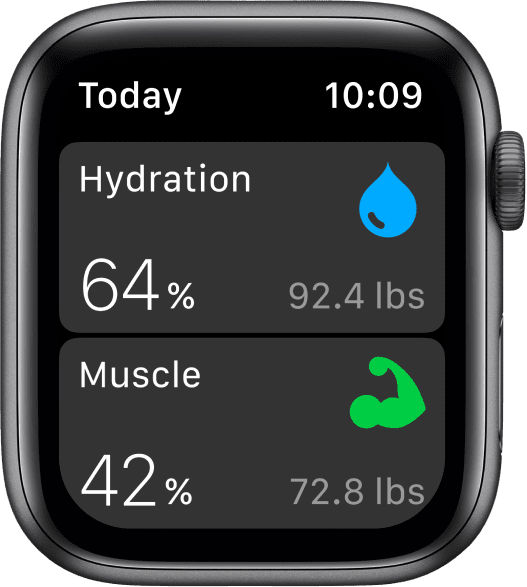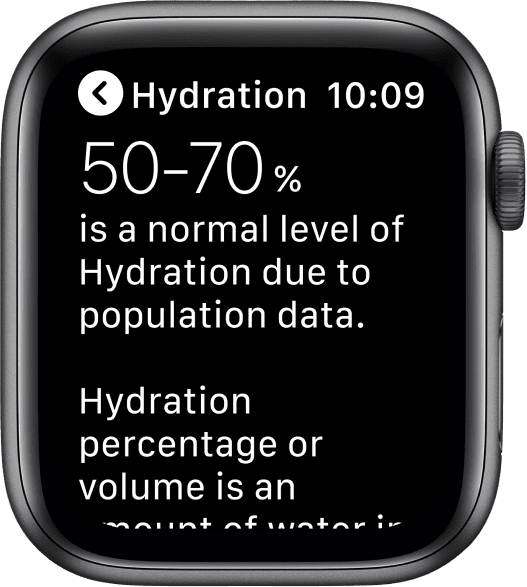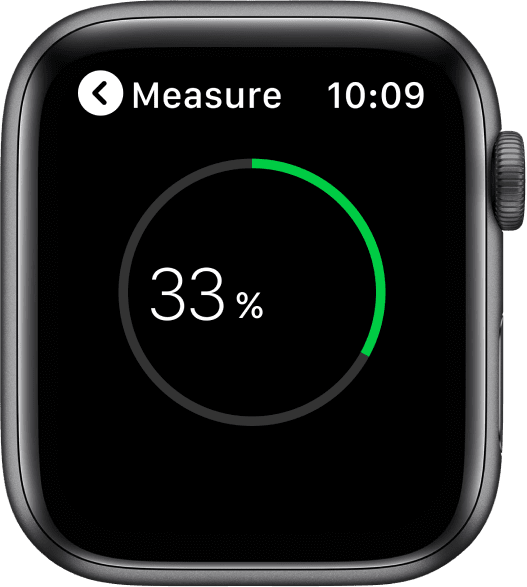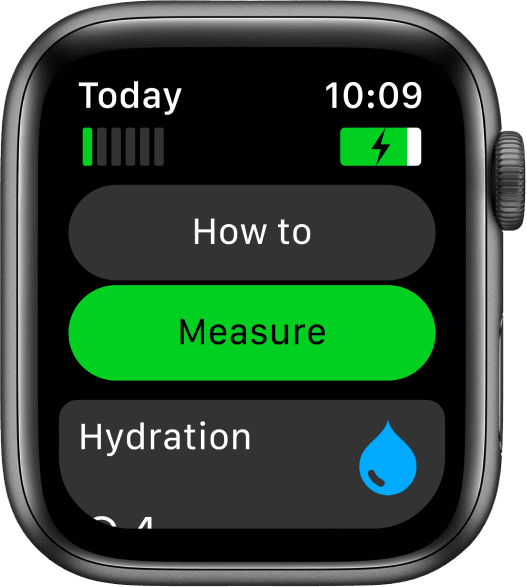 Lose weight or gain muscle faster
Around the clock body composition tracking makes your workouts and fitness activity much more interactive, because you see exactly how your body changes.
With the AURA Strap, you can precisely track physical changes and achieve fitness goals faster. Say you want to lose 4 lbs of fat and gain 7 lbs of
muscle
in a month. Just monitor your body composition every day, track your progress, and adapt your
workouts
accordingly. With the AURA Strap, you can identify workouts and activities that fit your
body
and achieve your goals faster.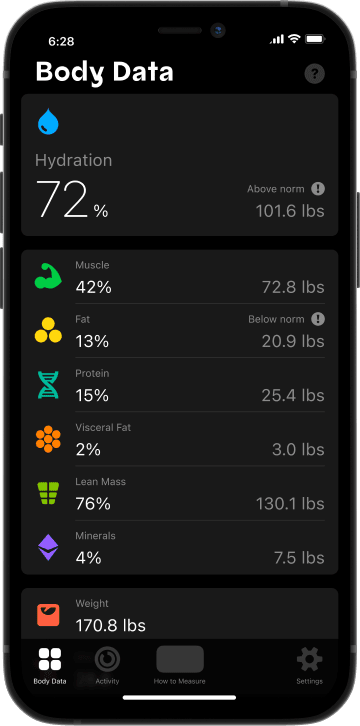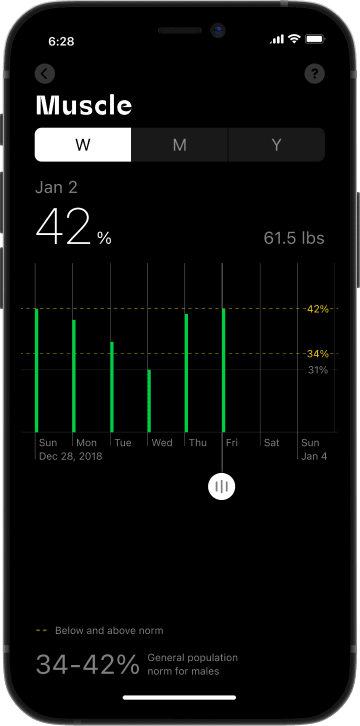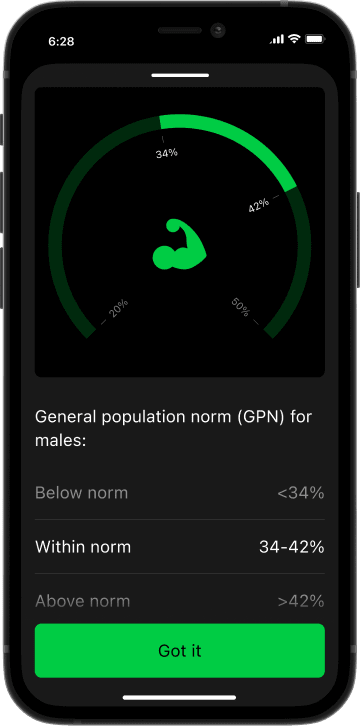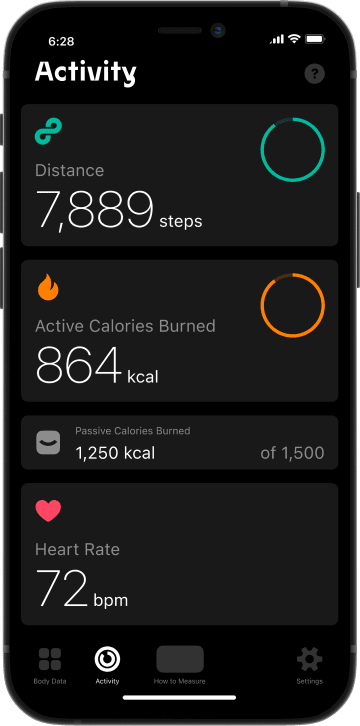 Feel better and stay active longer
Our bodies are about 60% water, but you can become dehydrated and not even know about it. Water gives us mineral elements and electrolytes, improves our immune system, and provides energy. It is essential in maintaining a healthy heart, brain, and muscles.
It makes sense that hydration is so important to your health. Drinking fluids helps manage your concentration and performance, increases your endurance, and prevents elevated
heart
rate. Staying
hydrated
during your workout improves your overall ability to perform exercises and aids in weight loss. Just remember, it's all about proper hydration. The AURA Strap is your unique opportunity to check hydration anytime and anywhere on your
Apple
Watch.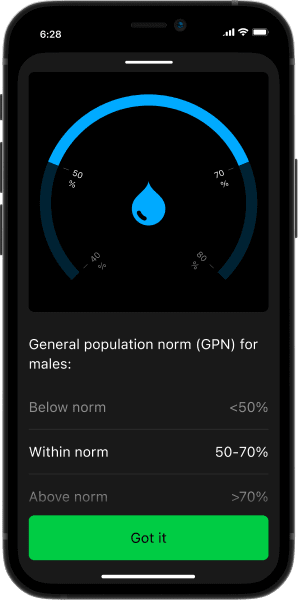 Boost your Apple Watch with the AURA Strap
You don't need to buy an additional device to measure your body composition, hydration levels, fat, muscle, lean mass, and protein.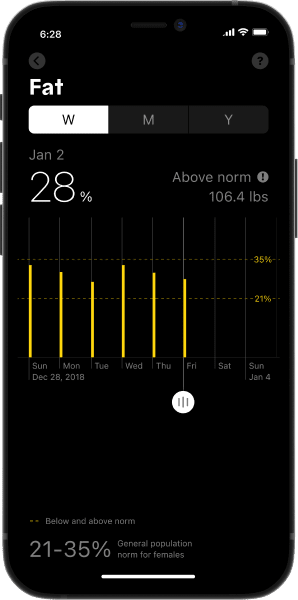 All your data in one user-friendly app
Data is carefully and securely stored in one app. Use the AURA App on your Apple Watch to take measurements and check detailed analytics on your iPhone.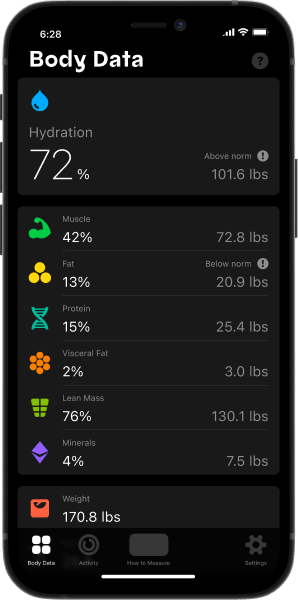 Bring your workouts to a new level
Use the Aura Strap to see how fat, muscle, body mass, minerals, and hydration change during activity, impacting health and wellness. Using the trend of your body changes, you can easily improve overall fitness performance and reduce body fat.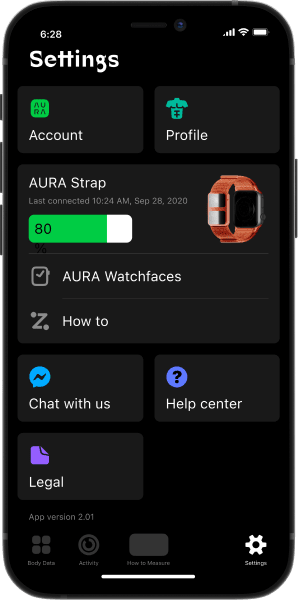 Use the AURA Strap anywhere and anytime
The AURA Strap is mobile and easy to use. You don't need to be at home or at the gym to check your parameters. Measure your body fat and muscle growth anytime and get better dynamic analysis than any scales can give you.
Press
Read what press says about us.
"Aura squeezes its fitness band into an Apple Watch 'Smart Strap'. It uses bioimpedance to give a body composition and hydration level reading."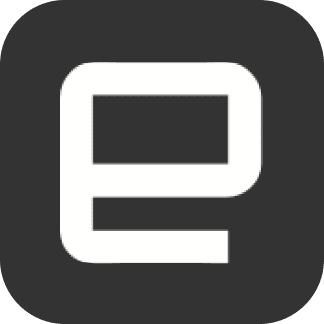 Engadget
"It's not a smartwatch, but this add-on band for Apple Watch could bring some seriously impressive skills to your wristy companion..."
iMore
"AURA Strap replaces your boring Apple Watch band with more health sensors..."
Wareable
"AURA Devices go beyond counting calories and steps to help you get healthy. The AURA Strap is an add-on to your Apple Watch to make it the ultimate fitness tool."
Enterpreneur
FAQ
What does it do?
AURA Strap measures your body composition and hydration levels on your Apple Watch.
Does it work with my Apple Watch?
AURA Strap supports Apple Watches Series 1 or newer, and it connects with 38/40/41 and 42/44/45/49 mm Watches.
How can body composition tracking help me?
A series of day-by-day measurements provides a trend of your body composition changes. It makes your workouts more efficient, because you can understand (by the numbers) what exercises are definitely good or bad for you.
Does it measure hydration?
Yes, AURA Strap measures how much water you have in your body with the help of bioimpedance analysis.
Does AURA Strap fit my wrist?
AURA Strap comes in two sizes for 38/40/41 mm and 42/44/45/49 mm Apple Watches. The smaller AURA Strap fits 144 - 200 mm circumference wrists and the bigger fits 150 - 225 mm wrists.
Is it waterproof?
Yes, AURA Strap is water resistant. You can wash your hands, shower and even go for a swim with your device.
How are AURA Strap's electrodes made?
The electrodes on each side of the device are made using medical stainless steel (contains nickel).
How long does it work on a single charge?
AURA Strap works for up to 6 months using a standard, replaceable wrist watch battery (CR2025). Simply change spent batteries with the included screwdriver, and it's ready to use.
Is it safe to use AURA Strap with a pacemaker?
No, we don't recommend using the device with a pacemaker.
How does Strap connect with Apple Watch? Is it secure?
AURA Strap uses high-frequency sound to transfer measured data. We use a microphone on your Apple Watch as a receiver. AURA app only uses it during measurement and doesn't store or process the sound data for any other needs.